June 18, 2021

Vasudev Innovative Software

1
Latest Technology Trends of Mobile Applications
Looking for a reliable mobile app development company in USA?? You are at the right place!!
In the past few years, mobile applications have been changing our lives constantly. Because of their immense value and popularity, they are considered vital opportunities for businesses.
According to Statistics, mobile applications are supposed to generate around $189 Billion US dollars in revenues every next year.
Numerous experts have stated that the mobile app development company is one of the fastest developing industries and shows zero signs of slowing down in the future as well. After thorough research, we have prepared a list of the most promising technologies used in developing mobile applications that one should stick to in 2021.
1) Augmented & Virtual Reality

In 2021, the use cases of AR & VR will not just be limited to gaming applications anymore. Innovation of new use cases has already been started in tons such as – Google and Apple are releasing new AR demos on their latest devices. This proves that AR & VR is going to be a game-changer soon. This technology is also seen in various social media applications such as Instagram and Snapchat. They have already released AR filters that turn the human face digitally into funny characters.
AR & VR Future Trends:
Mobile AR Disruption
AR in Marketing & Advertising
AR in Healthcare
AR in Manufacturing
2) Internet of Things

People don't seem to have much knowledge about IoT despite, they talk about it everywhere. IoT or the internet of things is a network of physical objects embedded with sensors, electronics, and software. These all are interconnected within the network itself.
Kisi Smart Lock, Nest Smart Home, Google Home, etc are some of the examples of recent IoT mobile app development trends. One can easily switch on and off the AC, TV, etc with a mobile phone with an easy sync process whether you are outside your home.
IoT is one of the game-changing technologies in the world of mobile application development.
IoT Future Trends:
Smart Homes
Self-Driving Cars
IoT in Healthcare
Security Equipped Routers
3) Artificial Intelligence & Machine Learning

Artificial Intelligence and Machine Learning Technology have dug deep into the mobile app market. Manifested in the form of Chatbots and Siri, the combination of both AI and ML has become an essential part of mobile app innovations now.
However, this technology is not just limited to chatbots and Siri. Several organizations have started embracing these to grow profit and decrease operational costs in various forms. Artificial Intelligence and Machine Learning have deeper roots at present, yet have a significant opportunity for innovation in the future.
AI & ML Future Trends:
AI Automated DevOps through AIOps
Automated Machine Learning
Interoperability among Neural Networks
AI-Enabled Chips
4) Progressive Web Applications

Progressive web applications or PWA are those applications that deliver a complete mobile app experience. However, neither do they need to be installed from the app stores nor they require any significant amount of physical storage space within the device. Progressive Web Apps run straight from the browser, and once installed on the home screen, they can still work without the Internet.
Several companies such as Flipkart have integrated PWAs into their website platforms. The PWA offers unbelievable possibilities to experience android applications even in low-spec smartphones. For an instance, the Google Maps Application takes over 200 MB of space on smartphones, however, it barely consumes 50KB if installed as a progressive web application. In addition to this, it functions flawlessly in low-spec smartphones even if space is less.
5) Mobile Wallets

The demand for mobile wallets is increasing nowadays and is going to touch heights in 2021. Customers prefer frictionless payment methods in every mobile app they use. However, this makes the payment gateway integration offer the highest level of secured encryption and becomes the mainstream in all types of mobile applications.
Future Trends of Mobile Wallet:
Over 2 Billion Mobile Wallet Users
Contactless Payment
6) Wearable Devices

We all are aware that the market of wearable technology is enduring rapid growth and is expected to reach over $81.5 billion by the end of 2021. This indicates that the use of wearable devices would become as extreme as smartphones. Yet, the combined use of smartphones and wearable devices creates an effortless experience for the users where the main control panel of any wearable device is the smartphone and they both need to be paired up with each other.
However, expert mobile app developers in the IT sector say that smartphones would not be the main hub for wearable devices anymore, instead would have a connection directly to the web.
7) On-Demand Applications

On-Demand Mobile Application is the future of all industries. No industry would let go of such a successful business model in 2021.
Today, almost 42% of the adult population is using on-demand services and this trend would not fade away ever.
Future Trends of On-Demand App:
More Industries will Embrace On-demand Applications
More Focus on the B2B Sector
Beyond 2021
To fulfill the ever-changing customer demands, staying up-to-date with the latest mobile app development technology trends is necessary. Hope this article would have helped you obtain the insights into latest mobile app development technology trends for 2021.
Additionally, if it is difficult to identify the exact benefits of mobile app trends for your business, reach out to our expert app developers. Our mobile applications are perfectly optimized for a great user experience and consist of pixel-perfect designs.
Also, no matter what industry your business belongs to, we can build android and ios applications for your business as well as customize it according to your requirements. We guarantee to make your mobile application stand out in the market.
What are your thoughts on the mobile app development technology trends that are going to rule 2021? Let's discuss this in the comment box below!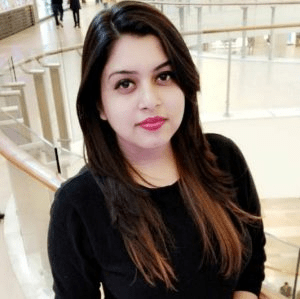 Certified Digital Marketing Professional with extensive experience in developing data-driven marketing campaigns and strategies, building content strategy, successfully managing marketing teams, excellent communication/leadership skills, and monitoring performance of the campaigns.